Shibari: Japanese bondage for beginners
Are you and your partner already familiar with the captivating realm of Japanese bondage? Shibari, an age-old tradition deeply ingrained in Japanese culture, stands as a refined and meticulous form of bondage. Unlike mere restraints, Shibari places a significant emphasis on crafting complex and mesmerizing patterns, evolving into a true art form. In this blog, we invite you to delve into the rich tapestry of Shibari, offering a comprehensive exploration of this captivating Japanese art form.
The history of Shibari
While Western bondage primarily centers around the act of restraining someone, Shibari transcends mere restraint and delves into the realms of art and sensory exploration, including pressure points that can be both pleasurable and relaxing. This practice invites a deeper understanding of its origins and evolution.
The precise origin of Shibari is the subject of various theories and speculations. Many believe that it traces back to Japan's Sengoku period, a historical era marked by its darkness, characterized by torture and executions. This enigmatic history adds a layer of intrigue to the art of Shibari, as it continues to evolve into a multifaceted practice blending sensuality, artistry, and relaxation.
Did you know that… if translated literally Shibari means "bondage"?
Another prevailing belief surrounding the origin of Shibari suggests that its popularity in Japan can be traced back to 1908, courtesy of Ito Seiu, affectionately known as the "Father of Shibari." His groundbreaking research led him to delve into Hojojutsu, a martial arts technique that had military applications involving ropes.
Ito Seiu ingeniously transformed Hojojutsu into an expressive and captivating art form, laying the foundation for what we know as Shibari today. The art of Shibari gradually gained recognition and prominence as a "performance art" during the 1960s. Eventually, its allure transcended borders and made its way to England and the United States, where it continued to evolve and captivate enthusiasts around the world.
How does Shibari work?
While certain Shibari techniques draw inspiration from military practices, it's essential to understand that Shibari is, at its core, a delicate and enthralling form of bondage. Delving into the world of Shibari can lead to the cultivation of profound trust and a strong emotional connection between you and your partner. However, mastering this art form demands a considerable amount of dedication, patience, and creative imagination.
Shibari revolves around a series of intricate patterns, primarily influenced by the knots of Hojojutsu. These knots involve skillfully wrapping ropes in specific patterns around various parts of the body, eventually encompassing the entire physique. Each pattern exerts differing levels of pressure and restraint, offering unique sensations and experiences depending on the area of the body that is being stimulated.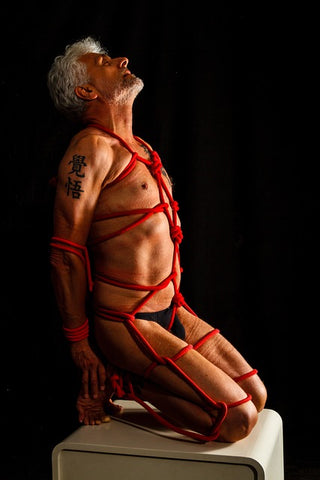 "Shibari involves wrapping bondage ropes with specific patterns around (parts of) the body." 
Shibari is celebrated for its use of asymmetrical positions, introducing a captivating psychological dimension that distinguishes it from more straightforward techniques. Unlike conventional Western bondage, Shibari transcends the mere restriction of movement. It artfully employs ropes in diverse patterns, allowing for the genuine stimulation of erogenous zones, including the genitals, breasts, and various intimate areas of your partner.
In the following sections, we'll provide a concise exploration of two well-known Shibari knots: the Takate Kote and the Ebi. These knots exemplify the intricate and sensuous nature of Shibari, offering a glimpse into the world of artistic intimacy and connection.
Read also: Introduction to BDSM
1. Takate Kote
Among the most renowned Shibari patterns is the Takate Kote, often referred to as the Arm Box Tie. This intricate knot serves as the cornerstone for numerous other Shibari patterns, providing a robust foundation for encompassing the entire body. In the Takate Kote, the arms and breasts take center stage, as the arms and hands are meticulously bound behind the back, creating a captivating fusion of art and sensuality.
2. Ebi – shrimp binding
The Ebi, often referred to as the "prawn," is another popular Shibari knot with a fascinating history. Originally employed as a method of torture, it has evolved into a powerful means of immobilization and surrender. In the Ebi, the submissive is skillfully bound in a seated position with hands secured behind their back. The unique aspect of the Ebi is the connection of the collar to the ankles, compelling the submissive to bend forward when the knot is tightened, symbolizing the profound trust and surrender that Shibari embodies.
Attention! Takate Kote in particular requires specific attention and practice. Do not attempt to practice Shibari without instructions from an experienced person.
What you need for Shibari / Japanese bondage
In Japan, Shibari is traditionally practiced with a seven-meter rope, although lengths between five and eight meters are also suitable. The choice of rope is a critical element in Shibari, with traditional ropes crafted from hemp or jute to provide a balance of softness and strength. However, silk ropes have also gained popularity, offering a luxurious feel while minimizing friction, thus ensuring a sensual and comfortable experience.
---