Dildo Vibrators
11 products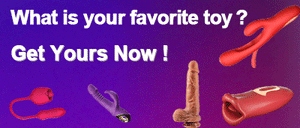 Dildo Vibrators: Classic, but Reliable
When it comes to a lot of things in life, sometimes, you don't need the next big thing or some complicated doodad you saw in a viral video. Sometimes, all you need is an older, more reliable thing.

That sentiment is definitely true with adult toys, especially with dildo vibrators. The saying "if it isn't broken, don't fix it" definitely remains true with these ones.

But what makes this iconic sex toy so good? Why has it remained so popular all these years? Well, let's find out.
What are Dildo Vibrators?
To avoid any confusion, let's define what dildos actually are. In the simplest of terms, dildo vibrators are a type of sex toy that are shaped like a penis, or simply phallic in shape.

They don't need to be the same shape of as a penis, though a lot of them are. Dildos are usually elongated with a cylindrical in shape and tapers off to a rounded shape at the tip. On the other end, it could flare out to form a base, or a handle, but they can also taper off to another rounded tip.

Dildos are designed specifically for simulating sexual penetration, not just into the vagina, but also the mouth, and even the ass.

A lot of people use vibrators and dildos interchangeably, but they are two totally different categories of adult toys.

A dildo is still a dildo even without the vibrating feature, and not all vibrators can be classified as dildos.

To make a sex toy a vibrator, it will need to have a motor inside it that produces the vibrations. So, dildo vibrators are dildos that have this motor, allowing them to vibrate for increased pleasure.

The vibration's rhythm and power can usually be adjusted to suit your preference.

Hopefully, that wasn't too confusing, and we haven't lost you yet.
Types of Dildo Vibrators
Classic – These are the basic dildo vibrators, with a generally phallic shape and a vibrating feature. These can vary in size from 3 inches to as big as 10 inches. If you're new to adult toys in general, the classic dildo vibrator is a good starting point.

Realistic – If you prefer a more penis-like sex toy, then there are realistic dildo vibrators available. These dildos can be sex toys that copy the general shape of a penis, to ones that copy the feel of penis skin, even down to the foreskin if you prefer those. Some can even emulate ejaculation through a pumping system.

Bullet Type – For a more discreet toy, you can also opt for bullet types, which are dildos that have the same vibrating function, just smaller. They're great if you prefer something more covert, or easier to hide.

Rabbit Attachment – These types of dildo vibrators have an attachment that stimulates the clitoris while the length of the toy is inside you. The term "rabbit" comes from the shape of the attachment itself. Other stimulators include suction types and tongue types.

Self-Thrusting – Instead of a vibrating feature, these dildo vibrators are known to expand and retract on their own. That means they can basically do the thrusting without much help from your hands.

Wearables/Strap-on – Wearables are a type of dildo vibrator that you can wear. There are two types. Ones that use straps or harnesses, and ones that don't. Generally, if you "wear" a dildo, you'll be using it like a guy with a penis would, making them perfect for all female couples.

Double Penetration – These are dildo vibrators where both ends are insertable. This makes them perfect for simultaneous penetration of two people. Some dildos, however, are flexible enough that you can penetrate yourself in different areas with both ends.

What are Dildo Vibrators Made of?
Silicone – The most common material used for making dildo vibrators. Silicone used for sex toys are generally medical grade. It is durable, non-reactive, hypoallergenic, and non-toxic.

Cyberskin – A more recent material that very accurately emulates flesh. It's a mixture of silicone and PVC materials. Compared to silicone, however, it is not as durable, but is very comfortable to use.

Metal – Stainless metal is another material used, usually steal. They are very rigid, with very little "give" when you use them. Dildo vibrators made from metal are good at conducting heat, making them perfect for temperature play.

Glass – Another rigid material, the glass used to make dildo vibrators are the same as glass used to make Pyrex wares. Glass is a great material if you prefer something heavier with very little give.

Rubber – Rubber, or latex, is a plant-based material that is very flexible, and much cheaper than silicone. However, they can react to things chemically. On top of that, lot of people are allergic to latex, making them less popular than silicone.

How to Use a Dildo Vibrator
Just like with any adult toy, or even sex in general, it's important to start things off by getting yourself in the mood.

Being in the mood means you're more likely to enjoy your session, and less likely to become frustrated. So do what you need to do to warm up. Play a naughty video, listen to some music, whatever.

Next, get your favorite lube ready. If you ever feel uncomfortable using your toys, then more often than not, adding more lube to the problem fixes things. This is especially true if you plan to use your dildo in your ass

Once you're warmed up and lubed up, then you can start. Because your dildo doubles a vibrator, you don't have to insert it to enjoy it. Glide it over your erogenous zones and tease yourself a little while it's vibrating.

You don't even have to stop at pleasuring just yourself. Invite your partner over and see where your toys lead you.

How to Clean a Dildo Vibrator
How you clean your dildo vibrator ultimately depends on whether it's waterproof or not. It's best to check where you got your toy to make sure.

Regardless, all you need to do is wipe your toy with a damp washcloth, preferably with a bit of soap. After that, rinse it off, then wipe it dry with a dry towel or air dry it.

Once it's completely dry, then you can safely store it in your closet or drawer.

Keeping your dildo vibrator well-maintained can increase its longevity, effectively letting you enjoy it for far longer.