Clit Sucking Vibrators
27 products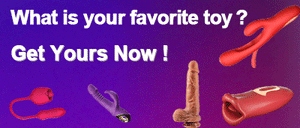 The Clit Sucking Vibrator - Stimulate Your Sweet Spot in a Better Way
There are plenty of erogenous zones on your body that you can stimulate for infinite pleasure. The clitoris is one of the most sensitive of them all.
So, it's not surprising that there are a lot of adult toys designed to stimulate it.
One example, the rabbit, which is a clitoral stimulator usually attached to the shaft of a dildo, is one the most common ways to stimulate the clitoris.
Although the rabbit is the most commonly known, there are other ways certain sex toys can stimulate the clitoris. One such toy is the sucking vibrator
These sucking vibrators are a good match for you if you prefer a different type of stimulation for your clit aside from having them rubbed. But how exactly do they work?
What are Clit Sucking Vibrators and How do They Work?
Sucking vibrators are a type of vibrator sex toy that focuses mostly on stimulating the clitoris.
The way most vibrators go about clitoral stimulation is by using vibrations and rubbing the toy itself against the clitoris. Sucking vibrators, on the other hand, do this with a sucking motion instead.
Sucking vibrators use a combination of vibration, air, and suction to achieve this, all powered by the same motor that produces its vibrations.
These vibrators tend to have a nozzle with a small hole at the end. You can place the nozzle over your clit, or any spot you want to simulate. You will then feel the sucking sensation when a sort of vacuum forms over your preferred body part.
The suction motion itself can change into a variety of patterns or rhythms, giving you a sensation of somebody actually sucking your clit for real.
Compared to other vibrators, sucking vibrators tend to be quieter, which further adds to their appeal.
Types of Clit Sucking Vibrators
Classic Clit Sucker – The classic sucking vibrator has all the relevant parts for clitoral stimulation. They are minimal, with only the suction nozzle and enough of a structure for you to be able to hold it. They can still vibrate like any vibrator, and their smaller size make them perfect for keeping them inconspicuous.
Clit Sucker with Bullet Vibrator – These sucking vibrators have a bullet vibrator attached to them. This means that the suction nozzle is on a separate structure from the vibrator. So, you can basically stimulate your clit while being able to penetrate yourself with the bullet vibe.
Clit Sucker with G-spot Stimulator – These variants have the same idea as the bullet vibrator attachments, except these ones focus more on stimulating the g-spot. The g-spot stimulator has a distinct shape allowing you to reach and vibrate the g-spot easily.
Double Penetration Vibrator– These sucking vibrators have both a dildo and an anal bead attachment. You can use them to stimulate your vagina, your ass and of course, your clit, all at the same time.
Wearables Clit Stimulator – Wearable sucking vibrators can be inserted and be kept there for a decent amount of time. They usually don't use straps or harnesses to do this. They are also pretty conspicuous, so you can wear them under your clothes.
Ways You can Use Your Clit Sucking Vibrator
The sucking vibrators are designed to be used on the clitoris while masturbating. Though, if you're imaginative enough, you can use them in all sorts of ways to improve your sex life.
To fully enjoy yourself before sex, it's always a good idea to get into it when you're sufficiently aroused. Otherwise, it won't just be unenjoyable, it might end up becoming uncomfortable. 
Using vibrators can help get you in the mood, and sucking vibrators are a perfect toy just for that. It's especially useful if your partner doesn't like to do foreplay or they just aren't really good at it.
Speaking of partners, sucking vibrators are not just good for getting yourself in the mood, but also your partner. Toys are best shared with someone, after all.
Mutual masturbation using adult toys can be a great way to fire up your sex life.
Explore Your Body with Them
The clitoris isn't your only erogenous zone. Your whole body is chock full of them, all of which are sensitive, and just as able to help you reach orgasm as stimulating your clit would be.
Explore your breasts, your nipple, your lips, inner thighs, the back of your neck, and more. For guys, you can use the suction to stimulate your testicles, your penis, and everything else.
What are Clit Sucking Vibrators Made of?
The most common material used on sucking vibrators is medical grade silicone. Silicone is not just flexible, but also very durable, so you can use them for a very long time.
On top of that, silicone is also non-reactive and non-toxic, so it won't be screwing around with your body. It's also hypoallergenic, so you wouldn't have to worry about allergies when you use it.
Aside from silicone, sucking vibrators might also be made from plastics, synthetic rubber, or latex. All of these materials can be flexible, but a few do have their flaws.
Some cheap plastics can be toxic, and latex can also cause allergic reactions to a lot of people. To save yourself a lot of hassle, make sure you pick safe materials when choosing your adult toys.
How to Choose your Clit Sucking Vibrator
Picking the right vibrator for yourself is ultimately down to your own personal preference. Whatever you like from your adult toys, there's always a toy available for you to get out there.
First, pick the design you want. Given that you know your body more than other people, then you know the best way to stimulate yourself to reach your best orgasm.
Do you prefer stimulating your butt? Do you like using bigger dildos? Or maybe smaller ones? Do you prefer toys that are easier to hide? Choose the right type that will suit your need.
Next, you should check the material. Most sex toys on the market are made from silicone, since it's so durable and soft. Silicone feels the most skin-like.
It does have its downsides though, like you can't use silicone based lubricant on them, because that breaks down the silicone.
There are also vibrators made of metal, glass, and even cyber skin, for a more realistic feel, even when compared to silicone.
Each material has their own pros and cons. Some materials are also easier than most to maintain.