Tongue Vibrators
26 products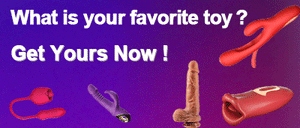 Tongue Vibrators: Oral Sex on Demand
If you are imaginative enough, you can use any part of your body to pleasure your partner. One of the most common ways to do it, outside of your crotch, is by using your mouth, or oral sex.
Now, the problem with oral sex is that you'll need a partner to do it. On top of that, they'll probably have to be good at it if you are to enjoy yourself.
Luckily, sex toys have improved a lot, and many of them can now give you the same stimulation that a mouth or tongue can.
Introducing the tongue vibrator, a portable tongue for your oral stimulation needs.
What is a Tongue Vibrator
A tongue vibrator is a type of vibrator that is focused mostly on stimulating the clitoris. But unlike other clit stimulators that use a suction motion, the tongue vibrator simulates tongue movements instead.
The way it does this is by using a soft material, usually medical grade silicone, but could also be rubber or soft plastic, and vibrating it using the motor inside the vibrator.
The way the tongue part moves can vary depending on each vibrator model. The tongue itself is a unique muscle, and copying its movements is not easy.
However, a lot of oral sex toys do come close, and tongue vibrators are no exception.
Some can wag and move like an actual tongue. Some models could even have a heating element to stimulate the heat of a real tongue. If you look hard enough, you'll definitely find what you're looking for.
Types of Tongue Vibrators
Clit Stimulator

– The classic tongue vibrator, which has a basic structure. They are usually on the smaller side, which makes them very inconspicuous. These types are generally external use only.
Rabbit Attachment

– These tongue vibrators are ones that are attached to a bigger vibrator. They're there to stimulate your clitoris while the actual body of the vibrator is inside you. Some of these dildos might also have a separate anal bead attachment on top of the tongue vibrator.
Rose Vibrator

– A tongue vibrator that is shaped like a rose. The tongue part itself doesn't resemble a tongue, but rather one of the rose's petals. They're an excellent vibrator if you prefer to keep things inconspicuous, because they look innocent enough at first glance.
Wearables

– A type of tongue vibrator that you can wear, usually without the use of straps or harnesses. You can insert them in the vagina and would stay put indefinitely, helping stimulate you vaginally and stimulate your clitoris as well.
Cock Ring Type

– A type of wearable that you can wear over your penis, up closer to the base. As you insert your penis into your partner, this tongue vibrator will stimulate their clitoris during sex.
Ways You Can Enjoy Your Tongue Vibrator
There are plenty of ways you can use your tongue vibrator aside from stimulating your clitoris.
If you're looking for ideas on how you can make the most out of your tongue vibrator, then look no further.
Help Yourself Get in The Mood
Tongue vibrators are designed to stimulate oral sex, and oral sex is best associated with foreplay. 
If you want to get off huge, or if you plan to get busy with your partner later on, then you can use the tongue vibrator to get in the mood. This is especially useful if you have a hard time getting in the mood, so when your partner is around, you can jump straight into it.
Play With your Partner
Toys are best shared, and that is also true with adult toys. During foreplay, you can use the tongue vibrator to pleasure your partner, whilst keeping your mouth free to play around the rest of their body.

If you prefer to keep your hands free, then you can also have your partner do the work, using the tongue vibrator as a tool that they can have free reign with. 
It's definitely a good addition to your time in bed.
Explore Your Other Pleasure Zones
Although the tongue vibrator is designed to stimulate your clitoris, you can actually use it on other erogenous zones.
You can try it on your nipple, on your thighs, your neck, your ears, and everywhere else. If you're a guy, you can also use this to play with your testicles or the tip of your penis.
Try It on your Ass
Speaking of trying your tongue vibrator on the rest of your body, it is also a great toy if you want to experience how anilingus feels like.
Not everyone is eager to eat ass, but of course, you might still be curious with how it feels to be on the receiving end. Tongue vibrators are a great way to experience this sensation if your partner isn't too eager to do it for you.
Who knows? Maybe it's the one thing that's missing in your sex life.
How to Use a Tongue Vibrator
Tongue vibrators are fairly straightforward to use. Just place them in front of your clit, or any part of the body you want to stimulate, and you're good to go.
If you feel uncomfortable, or weird about it, we suggest using ample amounts of lube. The lube itself can also simulate saliva, giving you a more realistic experience.
On top of that, ample lubrication can also make the entire experience feel a lot less weird.
Usually, tongue vibrators only simulate the tip of the tongue, but there are models that can be longer, letting you insert them into your vagina or ass.
What are Tongue Vibrators Made of
Like most adult toys nowadays, tongue vibrators are mostly made out of medical grade silicone. Silicone is not only soft, but it also isn't chemically reactive, it's hypoallergenic, and it's very durable.
This material is also great at approximating the human tongue very accurately, even down to the details.
Of course, there are also materials that could be used to construct tongue vibrators, aside from silicone, but they are generally not recommended.
Latex, for example, could cause allergic reactions, and some soft plastics could be toxic, especially if you have a sensitivity to them.