How to Give Your Man a Best Hand job
Hands are truly amazing. They not only serve practical purposes in our daily lives but can also provide us with incredible sexual pleasure. With our hands, we can caress our partner's face while kissing, undress each other at our preferred pace, and skillfully stimulate various external and internal body parts. In this article, we will guide you on how to give your man an enjoyable hand job.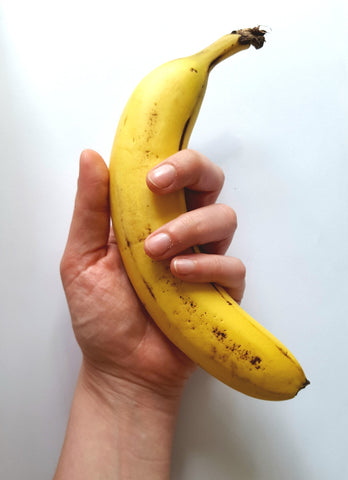 Choose The Right Place for Masturbation  
The environment we're in can greatly impact our enjoyment of any activity, including sexual ones. It's more likely that you'll have a pleasurable experience in a relaxing, comfortable, and tidy room rather than being surrounded by dirty clothes and old coffee mugs. 
Set the scene for yourself. Clean up well in advance and avoid leaving it for the last minute. Get rid of any dirt or mess that can be a real mood dampener. Create an atmosphere where, when you close your eyes, you can fully indulge in orgasmic bliss without any distractions or clutter blocking your view.  
Use lubricant Without a Doubt
Friction or irritation? No, thank you. Silky smoothness with a sensual glide? Yes, please! When engaging in a pleasurable hand job, it's essential to use lubricant to ensure a fantastic experience without any pain or discomfort. You can choose any type of sexual lubricant that suits your preferences for a skin-to-skin sexual encounter, as long as you're not using toys or condoms. Whether it's water-based or silicone-based, the specific composition of the lubricant won't matter. 
Water-based lubricants tend to evaporate over time due to friction and our body temperatures, so you may need to reapply it during the hand job session. However, if you prefer to avoid interruptions for reapplication, silicone-based lubricants are a great alternative. They don't evaporate during use and can only be washed off with soap and water. That's why silicone lubricants are a popular choice for activities like hand jobs that involve direct skin-to-skin contact.  
Some individuals, me included, may not particularly enjoy the feel of silicone lubricants as they can sometimes feel sticky and require more effort to clean up afterward. In such cases, they might opt for other types of lubricants, even if it means sacrificing a bit of slipperiness or needing to reapply more during the session. Other options include hybrid lubricants, which are a combination of water and silicone, as well as oil-based lubricants like vegetable oil or coconut oil. Personally, I find water-based lubricants perfect for my needs, and you can even find them with delightful flavors or aromas if you prefer.  
Maintain Eye Contact 
There's an incredibly exotic element to locking eyes with someone while arousing them sexually or having your partner gaze into your eyes as they bring you intense pleasure. When you use your hands to pleasure your partner's penis, maintaining eye contact can amplify the excitement and add another level of stimulation.  
It can be thrilling to silently challenge your partner to maintain eye contact with you, knowing that they're fighting the urge to let their eyes roll back and their eyelids close in response to the overwhelming orgasmic sensations. The moans of pleasure escaping their lips only heighten the intensity of the moment.  
Talk Dirty to Him During the Job 
I understand that it can be challenging to know what to say in moments like these. I mean, you're focused on giving intense pleasure to your partner's penis and testicles with your hands, and you're expected to carry on a conversation at the same time? I don't recommend discussing the weather or household chores that need to be done. However, there's something to be said for incorporating dirty talk during a hand job. 
Express how much it turns you on to touch him in this way. Let him know that every little sound he makes is arousing you. Maintain eye contact as you express your anticipation for his explosive release, how you enjoy the sensation of his hot cum shooting and covering you, turning you into a delicious mess. You get the idea. Dirty talk during a hand job is also an opportunity to ensure you're targeting the right spots.  
Ask him if he likes what you're doing, encourage him to guide your hands to where he desires them, and inquire whether he prefers a faster or slower pace. Pay attention to the sounds he makes and take note of what elicits pleasurable gasps from him. It's important to gauge his reactions and ensure that you're providing the kind of stimulation that brings him immense pleasure.  
Anatomy of the Penis, What to Touch and How? 
Now, let's dive into some practical tips to achieve the most incredible hand job of your life. Believe it or not, there's much more to pleasuring a penis than simply pumping it and hoping for a satisfying finish. Let's explore the different parts of the penis and learn how to stimulate them to maximize pleasure during a fantastic wank.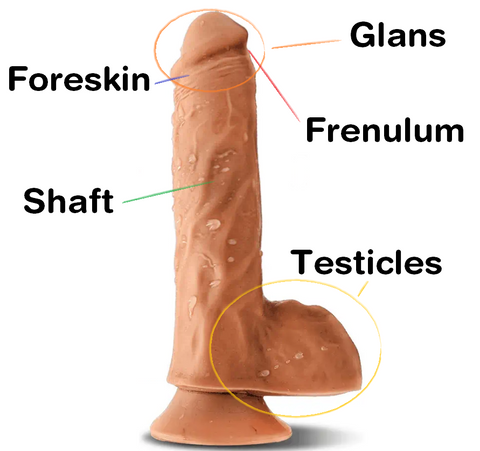 Glans:
The glans, or head, of the penis can be covered by the foreskin during a hand job. This area is extremely sensitive, so it's important to be gentle when stimulating it. If the penis is uncircumcised, the sensation of the foreskin moving up and down over the tip of the penis can often feel more pleasant and smooth compared to direct finger contact.  
With that said, a great technique is to grasp the shaft with one hand and use the palm of your other hand to cover and massage the head of his penis. Ensure that both of you are lubricated, and gently massage in circular motions.  
Bridle:
The frenulum, a small but highly sensitive area located on the underside of the penis, near the base of the glans, deserves attention. Use your fingertips to lightly stroke the frenulum as you pleasure the shaft. The lubricant you're using will ensure a smooth and pleasurable experience, without any uncomfortable friction.  
Shaft:
The shaft is the long, pulsating length of his erect penis. The pulsations may feel more intense at the base of the shaft, where it meets the testicles. Vary your grip between firm and lighter, almost lazy strokes as you pleasure him. Enjoy the sensation of his hardness in your hand and notice how the spasms and throbbing increase as he approaches orgasm.  
Take note of what truly drives him wild and remember those techniques. You can tell what he likes by observing his reactions—trembling, moaning, or closing his eyes. Each man is unique, so pay attention to the details he enjoys. It could be applying slightly more pressure with a finger in a specific spot or maintaining a certain speed and rhythm.  
When you sense that he's about to climax, you can tease him by switching to different forms of stimulation or pausing the pleasure for as long as you dare, and he can handle. The final orgasm will be intensely powerful and unforgettable. 
Testicles:
Don't forget about the balls! While the shaft often takes center stage during a hand job, the testicles deserve attention too. They may appear delicate, but their sensitivity can provide delightful pleasure. Gently brush your fingertips against the surface of his scrotum, and you'll make his package twitch and squirm with pleasure. Hold his balls with one hand while the other continues stimulating his shaft, creating a sense of total coverage. Pull downward gently, observing how much pressure feels good for him, and gradually increase it.  
You're aiming for a pleasurable sensation of crunching and stretching in his balls as you pump his shaft—never a hard or forceful tug! Let his reactions guide you throughout. As his arousal intensifies, his testicles may move upward, and the scrotum may tighten and contract during pre-ejaculation. This positioning exposes another sensitive area for your adventurous fingers.  
Perineum:
The perineum is the area between the balls and the anus. It's a fun area to explore and stimulate. You can offer firm massages or apply extremely light circular motions to complement the stimulation you're providing with your other hand.
Remember, communication and paying attention to your partner's responses are key. Experiment, learn, and adapt your techniques based on his preferences. Enjoy the journey of discovering what brings him immense pleasure and create an unforgettable experience.
Anal Play 
And then, of course, you could always mix in some anal play if that's what he (and you) is up to. I would advise pre-discussion for that; No one likes a surprise finger or four in their rear hole, especially someone who has never used anal sex toys or experimented with anal play.
If you both decide to go ahead with adding a little anal foray, make sure your nails are smooth, first, and then add some more lube. The anal area contains very thin skin which, while it has the advantage of being highly sensitive, is also prone to damage if care is not taken. Your goal is to give pleasure, not pain!    
Of course, you don't have to explicitly insert anything inside the anus to take full advantage of this extra area... Simply stroking the anus with your fingertips adds a shiver of dangerous excitement as you continue to give the best hand job.  
Let Him Guide You 
As you can see, there are plenty of possibilities for an all-encompassing stimulation session when it comes to giving your man an amazing hand job.   
Don't feel like you must perfect a certain routine or that there is only one correct method; feel free to mix, experiment and match. Watch and listen to his reactions, be open to any verbal or non-verbal cues, and let him guide him.  
Stroking at Different Speed
When you engage in solo masturbation, you likely enjoy pleasuring yourself at different speeds. Sometimes you may not have much time and need to be quick, while other times you can take it slow and savor the experience.  
Both approaches can be incredibly pleasurable, but they offer distinct sensations.  
The same principle applies when pleasuring your partner. Giving him a quick hand job while he's standing in front of the mirror, brushing his teeth in the morning, can be incredibly arousing and unexpected. It will feel quite different from giving him a massage and finishing it off with a slow, sensual hand job using lubrication. 
That's the beauty of varying the speed during hand jobs—you can provide your partner with entirely different sensations that still bring him to the point of trembling, shuddering, and ecstatic release. 
What Happens When He Reaches Orgasm
When your partner reaches orgasm, you may be wondering, "What should I do now?" There are two main things to consider:  
Where he ejaculates: The choice of where your partner ejaculates depend on your preferences. If you enjoy it, you can let him ejaculate into your mouth and decide whether to swallow or spit it out. If you're both naked, you can allow him to ejaculate on your face, neck, breasts, or any other part of your body. Another option is to let him ejaculate onto your hands. However, be cautious to avoid contact with your vagina if you're not on birth control. Alternatively, if you prefer not to have his semen on your body, he can ejaculate onto himself or elsewhere.  
Applying pressure: As your partner ejaculates and releases streams of semen from his penis, it can become highly sensitive to touch. In such cases, it's important to loosen your grip and slow down, ensuring that it isn't painful for him. Many women experience a similar sensitivity and discomfort in their clitoris after climaxing.  
Get Feedback from Your Man
I've provided you with a wide range of hand job tips, techniques, and ideas. However, what's surprising is that your partner may only find a small portion of them truly enjoyable. You see, every man is unique and has different preferences and techniques that excite him during a hand job. 
What may work wonders for one guy may not be as satisfying for another. So, instead of spending a lot of time guessing which technique he prefers, it's best to have open communication and ask for feedback on the techniques you're using. This simple solution allows you to understand his preferences and ensure a more pleasurable experience for both of you. 
---