How to deep throat like a pro
Deep throating is a term you've likely encountered. While it can provide immense pleasure to the recipient, it may present some challenges for the giver. The good news is that, like many other aspects of intimacy, you can learn how to deep throat comfortably and confidently. If you're curious to discover how, read on as we share the best practices.
Deep Throating: An Intimate Act
Deep throating is a sexual act, a variation of fellatio, where one partner fully accommodates the other's erect penis into their mouth and throat. It's a topic that many individuals are interested in exploring, and in this article, we'll provide insights and guidance on how to engage in this intimate act comfortably and safely.
What exactly is deep throat?
Deep throating is a sexual act that falls within the category of oral sex, specifically giving a blowjob. It involves sliding the penis deep into the throat during oral stimulation. When the penis reaches a point where it cannot go any further, it is referred to as deep throat.
For the person receiving deep throat, it can be an intensely pleasurable experience. The deep penetration of the penis into the mouth and throat provides a heightened level of stimulation, particularly focused on the glans (the head of the penis).
The gag reflex
The gag reflex, also known as the pharyngeal reflex, is an automatic response of the body to protect the airway from potential choking hazards. It is triggered by the stimulation of the back of the throat. When someone attempts deep throating, they may encounter this reflex, which can cause gagging or a choking sensation.
Individuals who have less experience with deep throating may find it challenging because their gag reflex is more sensitive. However, with practice and gradual desensitization, it is possible to train and reduce the sensitivity of the gag reflex over time.
"For the person on the receiving end, deepthroating can be an especially lustful sexual act."
First steps with deep throat
Are you eager to explore the art of deep throating but aren't sure where to begin? Mastery of this skill primarily revolves around throat relaxation. Excessive tension and muscle stress in the throat can impede a smooth and enjoyable deep throat experience. To help you get started, we've outlined various methods for practicing this technique, both with or without a partner, to avoid any uncomfortable gagging episodes.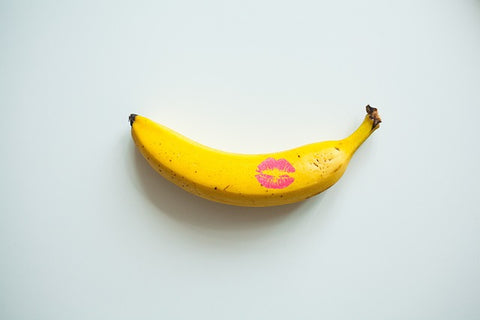 #1 Your own fingers
Practicing deep throating techniques using your fingers can indeed be a way to train and desensitize your gag reflex. Here are some steps you can follow:
Start by washing your hands thoroughly to ensure cleanliness.

Relax and find a comfortable position, such as sitting or lying down.

Slowly insert your fingers into your mouth, going as far as you can without triggering the gag reflex. It's important to go at your own pace and not force anything.

When you feel the urge to gag, stop and hold your fingers in that position for about 10 seconds. This allows your body to become accustomed to the sensation.

Repeat the process, gradually attempting to insert your fingers deeper each time, while still maintaining control over the gag reflex. Take breaks if needed and be patient with yourself.

As you become more comfortable with your fingers, you can try using a toothbrush with soft bristles. Gently brush around the uvula area, which can help in desensitizing the gag reflex further. Remember to use a toothbrush specifically dedicated to this purpose, separate from your regular oral hygiene routine.
#2 A dildo (with suction cup)
Using a dildo, especially one with a suction cup, can be a helpful tool for practicing deep throating in a more realistic manner. Here are some tips to consider:
Choose a dildo:

Opt for a dildo made of a flexible material, as it can provide more comfort and give during deep throating compared to rigid materials like glass or metal.

Positioning with a suction cup: The advantage of a dildo with a suction cup is that you can position it at various angles, allowing you to explore different depths and angles that work best for you.
Experiment with angles: Try different angles and positions to find the most comfortable and pleasurable positions for deep throating. Take your time to explore and discover your own limits and preferences.
Take it at your own pace: Every individual progresses differently, so be patient with yourself. Practice and exploration should be enjoyable, so take as much time as you need to become comfortable with the dildo and the sensations involved.
Lubrication and protection: Prioritize your comfort by using a water-based lubricant on the dildo to ensure smooth gliding. You can also consider using a flavored condom to add a layer of protection and make the experience more enjoyable.
#3 Position is important
Positioning yourself comfortably is indeed crucial when practicing deep throating or engaging in any sexual activity. Here are some position suggestions to consider:
Standing in front of a mirror: This position allows you to observe and explore your technique while practicing with your fingers or a toothbrush. It can provide visual feedback and help you understand your movements and reactions.
Sitting in a chair: Sitting in a comfortable chair can be a convenient position for practicing deep throating techniques using your fingers or a toy. You can adjust your head angle and control the depth more easily in this position.
Lying on a bed: If you're using a suction cup dildo, lying on your back with your head just over the edge of the bed can be a suitable position. This allows for a more relaxed throat and easier control of the depth.
Legs in the air: Another option with a suction cup dildo is to lie on your back with your legs in the air, slightly contracting your abdominal muscles. This position can help reduce the chances of gagging and provide more control over the depth.
Sitting on your knees with head tilted back: This position, often referred to as "kneeling deep throat," can be comfortable for some individuals. Sitting on your knees, lean back with your head tilted towards the ceiling. This position can help straighten the throat, making it easier to accommodate deeper penetration.
#4 Your partner
When it comes to engaging in deep throating with a partner, it's important to approach it with open communication, consent, and a focus on your own comfort and pleasure. Here are some considerations:
Manage expectations: Transitioning from practicing with other objects to engaging with a real penis can be different. It's important not to set too many expectations for yourself or your partner during the first time. Take it at a comfortable pace and communicate openly about your boundaries and desires.
Breathing and tongue technique: While deep throating, remember to breathe through your nose to ensure proper airflow. Sticking your tongue out and keeping your chin slightly up can help create a more open and relaxed throat. Experiment with different techniques and find what feels comfortable and pleasurable for you.
Pay attention to your comfort: Deep throating should be a consensual and enjoyable experience for both you and your partner. If at any point you feel uncomfortable, pressured, or unable to continue, it's important to communicate your boundaries and take a break. Your comfort and well-being should always be a priority.
Explore your preferences: It's important to remember that deep throating may not be everyone's preference, and that's completely okay. If you find that you don't enjoy it or it doesn't align with your comfort level, there's no obligation to continue. Everyone has different preferences and boundaries when it comes to sexual activities.
Take your time: Engaging in deep throating is a journey that requires patience and practice. Allow yourself and your partner to explore and discover what works best for both of you. Remember that sexual experiences can evolve and change over time, so it's okay to take breaks or revisit activities at a later stage if needed.
"There will come a time when you want to try the real thing, but don't set too many expectations the first time." 
Things to remember when deep throating
When engaging in deep throating or any form of oral sex, it's important to keep the following points in mind:
Use lubrication: Using a

good lubricant

can enhance the experience and make deep throating more comfortable and pleasurable. Water-based lubricants are often compatible with oral sex and can help reduce friction.

Consider using a condom: Using a regular or flavored condom can provide an additional layer of protection and can also make deep throating more comfortable for both partners. Ensure you choose a condom that is safe for oral use.
Comfort and consent are key: It's essential to prioritize your comfort and consent when engaging in any sexual activity. If deep throating is not something you're comfortable with, it's perfectly okay to explore other sexual activities that you enjoy and feel comfortable with.
Communication is crucial: Openly communicate with your partner about your desires, boundaries, and comfort levels. Discuss what feels good and what doesn't, and establish a safe word or gesture to use if you need to pause or stop the activity.
Take it at your own pace: Deep throating is a skill that can take time and practice to develop. It's okay to start slowly and gradually increase your comfort level and depth. It's not a competition, and everyone progresses at their own pace.
Share experiences and learn from others: Engaging in discussions or seeking advice from trusted sources can provide insights and tips from others who have experience with deep throating. Sharing and learning from others' experiences can help you navigate the process more effectively.
---