What is a dildo and what differentiates it from a vibrator?
When it comes to purchasing a sex toy, we may have a question about what is the difference between a dildo and vibrator? And it is not so simple to ask what each toy does and resolve all the doubts we have, so here we explain it to you:
First of all, what is a dildo?
A dildo is a versatile sex toy designed with a phallic or penis-like shape, specifically crafted for manual penetration. Dildos are known for their simplicity, as they typically lack internal motors and do not vibrate. These pleasure devices come in a variety of materials, including silicone, glass, or plastic, providing users with options that cater to their preferences.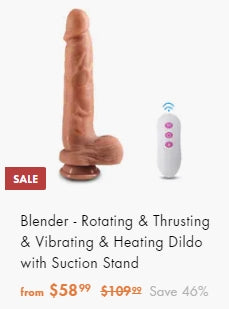 The primary function of a dildo is to offer intimate pleasure through vaginal or anal stimulation, depending on personal preferences. Some dildos feature unique textures or more realistic shapes, enhancing the overall sensory experience. Additionally, certain models come equipped with a suction cup, allowing users to securely attach them to various surfaces for hands-free enjoyment.
The absence of vibration in dildos provides users with a different sensation compared to vibrators, emphasizing the manual aspect of penetration. This makes dildos a popular choice for those who appreciate the simplicity and versatility of a sex toy that focuses on the natural feel of intimate exploration.
Whether used for solo play or shared experiences with a partner, dildos remain a timeless and widely appreciated addition to the diverse world of sexual wellness products. Their wide range of shapes, sizes, and materials ensures that individuals can find the perfect match for their desires and comfort preferences.
What is the difference between a vibrator and a dildo?
The distinction between a vibrator and a dildo lies in their design, functionality, and the sensations they offer.
A vibrator is a dynamic sex toy equipped with one or two internal motors. Activation of these motors results in vibrations that enhance the pleasure experienced during use. Unlike dildos, vibrators focus on providing stimulation through the vibrating motions, and they come in an extensive array of shapes and sizes. It's important to note that vibrators don't necessarily adhere to a phallic design.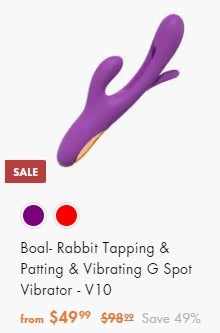 The versatility of vibrators is evident in the diverse types available, including vibrating rabbits, bullets, anal plugs, rings, and more. These variations cater to different preferences and desires, expanding the possibilities for users seeking specific forms of pleasure. Surprisingly, there are even compact clitoral vibrators designed to fit in the palm of your hand, offering discreet pleasure without generating noticeable noise.
The vibrating feature distinguishes vibrators from dildos, as the former focuses on the added dimension of dynamic stimulation. This makes vibrators a popular choice for individuals seeking a more dynamic and varied experience in their sexual wellness journey.
---